Learn More About Your Water
From the Boca Raton Utility Services Newsletter:
The Utility Services Dept. conducts daily collection and monitoring of the City's water system from various locations in the treatment process to ensure that every drop of water delivered to our customers meets or exceeds the strictest regulatory guidelines. A comprehensive summary of these tests is featured in our Water Quality Report, which is published annually by July 1.
If you would like to speak to someone about the report or request a paper copy of the 2022 Annual Water Quality Report be mailed to your home, please call 561-338-7306 or email utilityprogramsinspector@myboca.us.

For more information about the City's Utility Services Department, your drinking water, and to view previous year's reports, visit their website.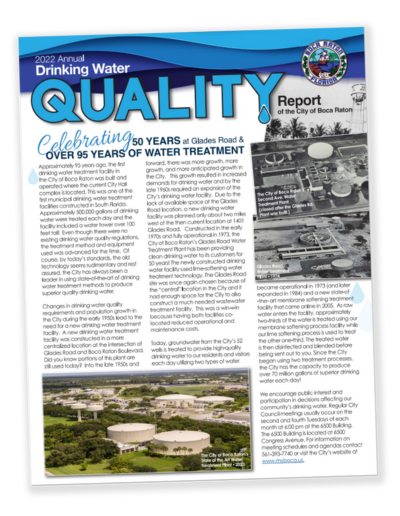 ---